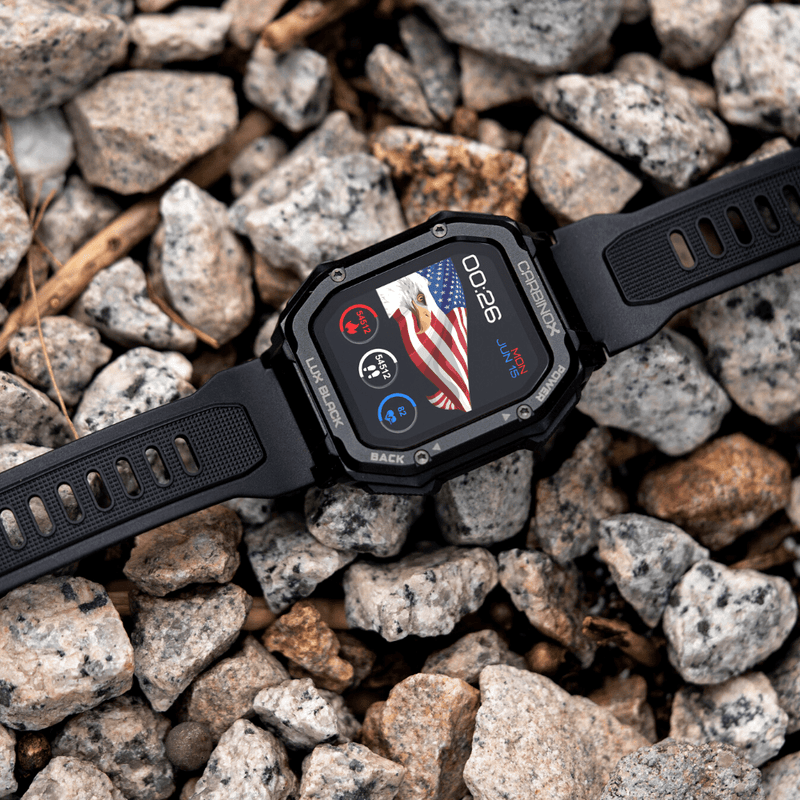 FREQUENTLY ASKED QUESTIONS.
Whether if you already have your smartwatch or you're thinking on getting it, doubts may appear. That's why want to ensure you're super clear about our products andlive the Carbinox experience at it highest. 
Our smartwatches are water resistant, which means that they're able to be in contact with certain amount of water but WE DO NOT recommend to swim, dive or take a shower with them. In these last two cases, they will work perfectly but we are not gonna give false expectations and bad experiences to our customers.
UPDATE: CARBINOX VESTA AND CARBINOX X-RANGER ARE WATERPROOF. PLEASE CHECK THEM OUT!
Of course! All our smartwatches are covered with 90-Day Money Back Guarantee in case that they don't fit your needs, as well as 14-Day Protection from any software or internal issues. If this happens, we'll provide you a replacement without cost.
Yes, you can connect any smartphone, whether it's Android or Apple to your Carbinox Smartwatch via Bluetooth by using the app DAFIT (Available on App Store).
UPDATE: FOR CARBINOX VESTA AND CARBINOX X-RANGER, THE APP IS GLORYFIT.
No, you can only REJECT OR FORWARD CALLS, as well as only READ messages and notifications.
UPDATE: CARBINOX TITAN PRO, CARBINOX VESTA AND CARBINOX X-RANGER HAVE BLUETOOTH CALLING TECHNOLOGY, WHICH MEANS THAT THEY CAN MAKE CALLS.
Yes, all of our smartwatches have adjustable bands that can fit with any wrist.
YES! You need to install the APP DAFIT and connect the watch to your smartphone via Bluetooth.
UPDATE: FOR CARBINOX VESTA CARBINOX X-RANGER, AND CARBINOX IVY, THE APP IS OUR OFFICIAL ONE CARBINOX.
Your smartwatch will be fully charged after approximately 2-3 hours.
Please unscrew the bottom of the flashlight and remove the plastic film on the blue battery and then screw again. The battery comes with this film to avoid any contact while shipping.
From the day you place an order with us, it could take 1 business day or less to process and ship it. After that, it will take around 3 to 5 business days to arrive in normal conditions. The packages are fully protected through shipping process so you don't have to worry about your order getting damaged.
Yes of course, each Carbinox smartwatch comes with a USB Charging Cord, as well as an Instructions Manual to learn how to properly set it up.
The only way to charge them will be through your charging cord connected to a power outlet. Wireless Charge could come for future models.
The actual models don't have that feature but we'll include them on the new releases soon.
Don't worry, it happens and you know what? We've got you covered. Please click the button above to download our Troubleshooting Guide as well as the Digital Instructions Manual for your smartwatch.